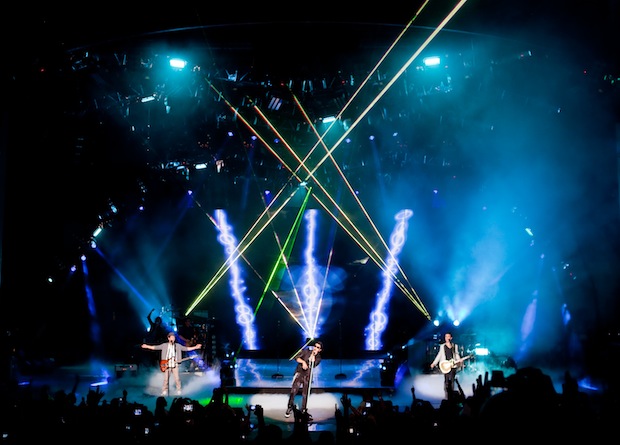 You can get professional lighting and visuals on a DIY budget. (Image via Planet Vectorworks)
In my last article, we discussed ways in which you can plan and book a DIY tour that runs effectively, successfully, and within your budget. So now that you've packed up your gear, managed your expenses, and hit the road, what can you do to really blow your fans out of the water night after night?
After spending years as a touring musician with my band Sky Eats Airplane, alongside my current work in assisting artists with light shows and production, I've learned a thing or two along the way. Here are seven surefire tips to make your DIY tour stand out from the competition. (Hint: it starts before you even hit the stage!)
1. Brand your band
A lot of artists shy away from the term "branding," but a brand is simply an image that you put off to the public. You already give off an image through your music and how you carry yourself, so you might as well tweak it and use it to your advantage.
If you're touring, you likely have a fanbase already, and potentially even a logo and cover art that you've already used. Therefore, I'd recommend creating a small advertising campaign using both physical and digital channels. Find a good graphic designer to make professional flyers for your shows that include some of your branding along with date information. Go hand out flyers, put them up on street posts, and meet some new fans! You could even try reaching out to your existing fans to assemble a street team that will help you pass out flyers and build attendance. It's an old-school tactic, but it's surely an effective one.
Combine your physical marketing with some social media marketing that utilizes the same branding, and you'll be sure to make an impact. Have that same designer make a Facebook graphic announcing your shows, post it, and put a few dollars into promoting the post to folks in that particular area. This kind of targeted method is a great way to promote your tour online, and you can often pair up with each individual venue for cross-promotion.
A fun promotional tactic to try is running a small ticket giveaway in your area (but just be sure to follow Facebook's guidelines about administering promotions on your Facebook page). Don't forget to use apps such as Bandsintown to promote your event, and reach out to your fanbase to make sure they're well aware of the shows in their area. A packed gig is a successful gig!
2. Hit up local press
Once again, this is something that needs to happen before you hit the road, but it'll certainly make you stand out from the typical touring artists in your area. I'd recommend looking into a small PR (public relations) professional to help ensure that local press covers your tour, or you can do some work on your own if you don't quite have the budget to hire someone.
One way to keep in touch with the press is by generating local press lists. Make a list of entertainment media outlets in the cities in which you will be hitting. As you travel, be sure to send press releases, your press kit, and small announcements to these outlets to try to get some interviews and reviews.
Not only will this help you build your fanbase in these regions, but it's also a way to stand out from other artists and give a memorable impression both before and after your shows.
3. Get professional visuals on a DIY budget
On any given night, your band is competing with many different kinds of entertainment. Sometimes it's helpful to ask yourself the question: "What do we offer fans that makes our live experience worth going to?"
When my band first started touring, I really wanted our live show to stand out from other bands. I saw how larger acts had custom-made light shows that were much more synchronized to their music than most house lighting designers. At the time, we didn't have enough money to hire a fulltime lighting designer, so I designed a system to control lighting using our stage computer running click and backing tracks. That way, we literally pushed play and our lights would stay perfectly synchronized to the music while we rocked out. It allowed us to stand out, save money, and increase our value as a band. It made playing shows much more enjoyable, and it gave fans something to talk about (and bring more of their friends next time). It was such a success that I now design automated light shows for artists fulltime with Duck Lights.
Nowadays, breakthroughs in LED lighting have made buying a decent starter lighting package cheaper than ever. In addition, you can create videos for your performance that you can play back with projectors, which can also be acquired inexpensively.
4. Consider using risers and scrims
Aside from lighting and video, there are a number of things that you can integrate into your show to make it stand out visually. If it makes sense for your music, "ego risers" can be created to allow band members to tower over the crowd. This can especially help for smaller shows without high stages. Typically, a moderately priced metalworker can put several road-worthy risers together for under $100.
Having your branding and artwork onstage in the form of banners, backdrops, and scrims can also help enforce your branding. There are several companies that design custom scrims and banners for any kind of artwork you can imagine, such as BandScrims.com.
5. Make it a great aural experience
You can be the greatest musicians of all time, but with some poor acoustics and a mediocre sound tech, you can still sound pretty awful. If possible, try to hear out the room in advance to familiarize yourself with it. Also, if the venue doesn't have a sound guy, reach out to local sound techs in the area who may have experience in that venue.
Before your gig, be sure your rider (what you ask from the venue) is up to date and that the venue has all of the proper cables and amps you require. Next, be sure to properly set up your gear – that means no tangled wires, with each one the proper distance apart. After you set up, start doing a line check to make sure that every instrument is at its proper level. Then, do a proper soundcheck with the full band well in advance so that the sound engineer can make sure everyone is sounding as they should.
During your performance, I'd recommend using backing/click tracks to ensure that you're always on cue and on beat. These can be very useful to musicians!
6. Play unique side gigs during your tour
How about doubling your cash and spending some more time in a cool city? By booking a stripped-down acoustic set in the same town as another one of your gigs, you can not only make more money, but also give your fans a rare glimpse of your music in a more personal and intimate setting. Try coffee shops, wine bars, or even just regular venues on slow days of the week.
For artists with a love for dance music, how about a DJ set? Take advantage of your talent and clout as a musician and try to make the most of each town you're playing in.
It may take some practice and planning in advance, but this is a great way to give your fans a treat, work on your musicianship, and promote your full set later on that week.
7. Practice effectively
Practice makes perfect, but not if you aren't practicing effectively. One of the best tricks I learned working with phenomenal drummer Travis Orbin is to practice your songs in significantly slower tempos. If this concept is new to you, it might seem unnecessary… until you realize that practicing your songs at a much slower speed can be more difficult than it sounds.
At your next practice, try this:
Play your entire set at 60 percent tempo (i.e. if the song is 120 BPM, play it at 72 BPM).
Play the set at 80 percent tempo.
Play the set at performance tempo.
Most likely, by the time you reach the normal speed, the songs will feel more challenging and new again. This process forces you to relearn your songs and break any bad or sloppy habits that you or your bandmates might have accrued over various gigs and practices. The end result will be your band playing tighter than ever before.
Do you have any other tips for making your tour stand out? Let us know in the comments below!

Lee Duck is a professional musician, producer, and lighting designer. In 2004, Lee founded Sky Eats Airplane, a heavy electronica band that performed using a computer. Lee currently designs automated light shows for bands and DJs that perform with backing tracks. You can learn more about his services at www.ducklights.com.