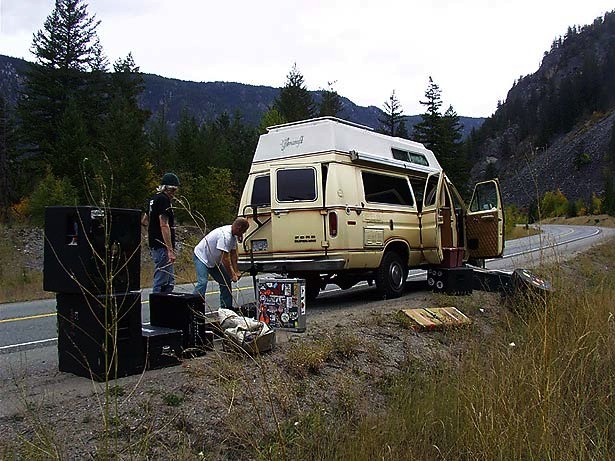 Image via Nashville Music Buzz
One could argue that a "successful" tour is primarily defined by monetary gain. While making money on tour is certainly important to sustain your music career, there are also many other factors that come into play. For example, did you accomplish your overall goal for the tour? Did your band play well? Did you gain new fans? Did you make valuable connections at the venues you played?
Just because you didn't make a huge profit doesn't necessarily mean that your tour was an utter failure, but I imagine you wouldn't mind coming home with a little extra cash in your pocket (or at least breaking even). That being said, here are the top eight things you can do to maximize your chances of earning (and saving) money on the road, and make your tour a worthwhile endeavor as a whole:
1. Do you actually have fans in the cities you're playing?
Whether you're touring on a regional or national level, it is very important to know your fanbase. Just because you have a thousand fans at your hometown shows in New York doesn't necessarily mean you'll have a thousand people come out to your show in Miami.
If you've played in the region before, you can check the numbers from your last show to decide whether the turnout was decent enough to play in that area again. Otherwise, you can take a look at your fan data and consider visiting cities where your record is selling well. If you don't have enough sales data yet, you could simply check how many people in a particular region "like" your band on Facebook. Or, if you use a service like Mailchimp for your email list, you can take a look at where your subscribers are located (and target your campaigns accordingly).
2. Did you do enough promotion?
It still amazes me when a band contacts me the day after their show asking why I didn't make it out. Did I overlook the posters that were plastered around town? Did I somehow not get the Facebook invite? Did I accidentally unfollow the band on Twitter? Did I miss the mass text that said when your set time was? Wait... upon further review, maybe the band didn't put effort into promoting their show at all. It's a common mistake that can easily be avoided. Check out how to spread the word for your tour using social media, and other ways you should prepare for a show.
3. Are you playing the right kind of venues?
It can be a painful lesson for a metal band to play a venue that normally books EDM. Doing the proper research ahead of time can most likely guarantee that you're playing to the right people.
4. Should you have played on Thanksgiving?
No matter how talented your band is, playing shows on holidays (or even holiday weekends) is always going to be tough. When booking your tour, try to especially avoid dates on big holidays like Thanksgiving and Christmas.
5. Did you play too many consecutive shows?
Try not to burn yourself out on the road. Even Superman needs a day off once in awhile. Also, playing Detroit four times in one month – especially when you're from Detroit – probably isn't a good idea. In addition to burning yourself out and making it less likely that people will come out to see you, you might be violating a radius clause in some of your venue contracts.
6. Could you have budgeted better for on-the-road expenses?
You should always budget for gas expenses first. Try to minimize fuel costs by avoiding any unnecessary backtracking in your routing. If your tour is routed properly and you understand that gas is going to be your primary expense, you should at least be able to break even.
Any half-decent venue will typically provide food and drinks for their performers, so don't pass up on the offer. Selling band merchandise before and after shows can also be helpful if you're in need of some extra cash. Fans love to interact with band members, so they'll be more likely to buy merchandise if they're able to talk to the band for a bit. Have your most charismatic band member man the merchandise booth to maximize your chances of making sales.
7. Did you have local support?
The best way to get support for your tour is to connect with local bands. After all, they live in the city and will probably know what's hot and what's not. Getting the right locals on your bill will help you establish a lucrative fanbase in the area, especially if you're attempting to break into a new market.
8. Wait… were you underpaid last night?!
In order to ensure that you're getting the money you deserve, it's important to designate an able-minded individual to deal with the venue representative at the end of the night. He or she should collect the proper amount of funds before leaving the venue. ALWAYS request a settlement sheet, which is essentially a detailed expense report for the show. It should list all of the venue's expenses, the details of the deal, how many tickets were sold, and most importantly, what the band was paid.
Do you have any tips for booking a successful tour? Let us know on Facebook or Twitter.
Brandon Shotwell is the owner of Shotwell Booking, a Chicago-based boutique booking agency. He started working with bands nine years ago while attending college at Indiana State University.