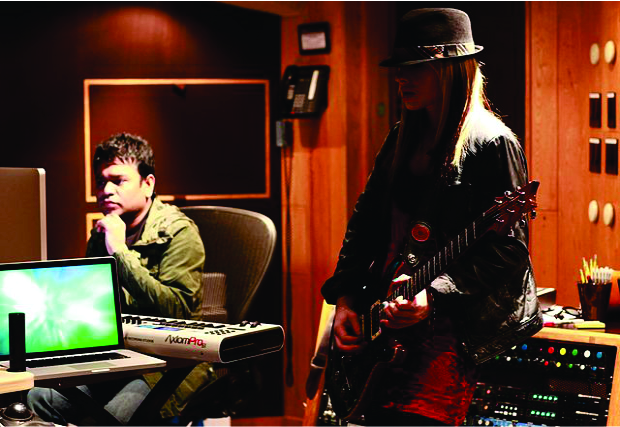 A.R. Rahman with Orianthi during the recording of Sadda Haq. (Image via bollywoodhungama.com)
As a musical artist, the world of music publishing can be hard to wrap your head around. If you're fortunate enough to get a music publisher interested in your songs, what are they going to do for you? Well, there are two basic directions a music publisher can go with your music: trying to get a major artist interested in covering your song (song plugging), or trying to get your song into a TV show, film, software, or advertisement (licensing). Both take a completely different approach and different set of skills and industry contacts, so often publishers specialize in one or the other.
Song plugging
Song plugging is when a music publisher with connections in the music industry presents works by independent artists and songwriters to industry representatives with the goal of being recorded by signed artists. Once a song is successfully pitched, the signed artist will re-record the song in the studio, and the new version of the song will be used for sales, airplay, and/or licensing.
If a publisher is plugging your song to a major artist, they may not require much more than a demo to show the song's potential. How well the vocals are performed and the sonic quality of the mix aren't as important as the lyrics, melody, and song structure because if chosen, the song will be re-recorded by the major artist. You'll still be credited as the songwriter, but don't be surprised if the major artist would like to be included as a partial songwriter as well.
Song licensing
Song licensing is when a music publisher pitches songs directly to a music supervisor, whose job it is to oversee the use of music in the television, commercial, film, or video game project they're working on. If the pitched song is accepted by the music supervisor, that song would be used somewhere within the project. This could mean that the song is used as a short, background bed track for a scene, or it could be used as a prominently featured piece in the project (ending credits, commercial jingle, etc.)
If a publisher is interested in pitching your song to, let's say, a TV show, then the song will have to be "broadcast-ready" – the mix, vocals (if there are any), and arrangement have to be perfect because this is the version that's going to be broadcast to the world. So no acoustic guitar and vocals recorded in your bedroom with that air conditioner running.
What does the publisher need from you?
Both types of publishing require that you, as the songwriter, assign the rights to the song – both the master recording and the copyright – to the publisher for a period of time. This is so that the publisher can bring your song into the market and sign deals on your behalf. You'll still be the writer and receive royalties for the writer's share of the song, but now your publisher will get a percentage of royalties as well (the percentage will depend on your particular contract). It's also likely that you'll be required to sign an exclusive deal with the publisher so that they become the sole publisher to represent that songs or songs.
Do you really need the publisher?
Heavy stuff, right? I know you're thinking, "Why not just do it myself and forget the middle man?" Well, you could if you knew the right people, and they wanted to hear from you. Unfortunately, major artist reps don't generally want to hear from unknown songwriters with songs to plug. Plus, if they listen to your song and then record a similar melody on their next release, they're an easy target for copyright infringement lawsuits. So bigger artists only hear potential songs that come through controlled channels – usually known publishers talking with their managers.
And how about getting your song licensed to that TV show by contacting the TV production company yourself? Well, you can do that, too, but don't be surprised if your emails go unanswered. Again, music supervisors are swamped with unsolicited requests to listen to music every day. Even if they have the time and like what they hear, most know from experience that getting an artist to read, agree, and sign a synchronization agreement with all of the songwriters who wrote it, along with any work for hire agreements, and securing instrumental and stem versions of the songs by a deadline is very unlikely because, let's face it, musicians have a bad rep for being – how do we say this politely? – unorganized. This is why music supervisors on a deadline like to deal with music publishers who've already done this paperwork and have whole rosters of songs ready to go.
Click here to learn more about how music licensing and publishing work.
Zac Cataldo is a musician and owner/producer at Night Train Studios, a recording studio in Westford, MA. He is also co-owner of Black Cloud Productions, a music publishing company. Reach him at zac@nighttrainstudios.com.
Brent Godin is a bassist/guitarist and engineer/producer at Night Train Studios. He is also a talent scout at Black Cloud Productions. Reach him at brent@blackcloudproductions.com.