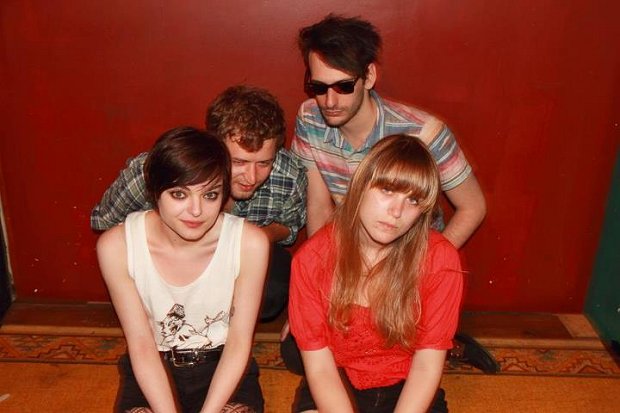 In 2012, CMJ included Butter the Children on a list of bands with bad names. (Photo via thegrandvictory.com)
When your parents discovered you were on the way, it's very likely that they began thinking of what to name you. Why? Because your parents knew that your name would be the lifelong personal brand that others would use to identify you. Just like your personal brand, your artist or band name is your professional brand identity. Your band name is the title of your musical story, and it will precede all of your other public identifiers. The name you choose is the one your fans will adopt and use to declare their loyalty when it comes to music, and in many cases, it will determine your earning potential when pursuing corporate partnerships.
In this article, you'll discover which types of names can stifle your opportunities in the realm of licensing and endorsements, how bad names can be counterproductive in your efforts to succeed, and what you can do to change your band or artist name without losing the fans you've already established.
Profane names
Imagine if Coca-Cola had chose to name its beverage company Shitty-Cola in 1886 when the company was introduced to the public. During an era where profanity was deemed unacceptable, Coca-Cola's founders would have offended their targeted consumers and likely went to jail for it. So, why any musician would choose to use profanity in the name of their business truly baffles me.
In a recent interview with Billboard.com, Damian Abraham – lead singer of the band Fucked Up – was asked, "How the fuck do you market a band called Fucked Up?" to which Abraham replied, "The name is a hindrance now that we want to be taken somewhat seriously." The article goes on to discuss how the band has found some success over the years, but it doesn't address the millions in licensing and corporate partnership revenue the band and its label, Matador, have forfeited as a result of the profane name.
I personally interviewed Brigitte Greene, vice president of licensing at Beggars Group – the mother company of Matador Records – and she mentioned that Fucked Up has been one of the most challenging bands to secure licensing opportunities for because no company wants to be associated with the band's name. So, it's evident that using a profane name can greatly reduce a band's earning potential.
Violent or gang-related names
I grew up listening to all kinds of music, but there were certain artists whose names alarmed my parents, and I was told to not listen to them. As a teen, I didn't understand why my folks were so appalled by these artists, even though they hadn't listened to the music. But now, it makes total sense.
When I say the names Bone Thugs-N-Harmony, N.W.A., or Marilyn Manson, you instantly understand that major corporations will likely never partner with these artists. Two of them are associated with gangs, one is associated with a murderer, and all of them are associated with drugs. While these artists did find some commercial success, they never truly reached their earning potential while operating under those names.
Discriminatory names
In a day where inclusion and equality has become a key aspect of every corporation's modus operandi, I'm amazed by the number of discriminatory names that bands and artists give themselves. When you think of a band named Das Reich, you instantly know that they'll never get a licensing or endorsement deal with a credible company. This kind of name should be avoided by anyone who wants to actually have a career in music.
If you're looking to gain licensing and endorsement opportunities, you need to make sure that your name isn't discriminatory or sexist. Discrimination and sexism will not be tolerated by any professional organization and will instantly reduce your earning potential as a musician. Lists of discriminatory band and artist names have been compiled and made available online, just in case you want to see how many musicians you need to thank for taking themselves out of the competition as you pursue licensing or endorsement opportunities. Some of the names blew my mind.
Yes, there have been plenty of cases where artists and bands have secured licensing and endorsement deals with major corporations despite the negative connotations of the music they produce. But, this article is not about the music, it's about the names under which musicians operate. Those artists who have had success even though their music may not be seen as "safe for all ages" didn't have names that kept them from getting these opportunities.
Changing your band name can take a lot of work and will likely require the assistance of a publicist if you've established a large fanbase. But, it's not impossible to make a successful transition from one name to another and keep your audience intact. One way to do this is by getting your fans involved in choosing a new name for your band. This way, they feel even more connected to the restructuring of your identity and will continue to be supportive of the new change.



Shaine Freeman is the co-founder and music editor of the award-winning I Am Entertainment magazine, as well as the host of the highly talked about music podcast, The Miews. Although he studied construction engineering at Bradley University, Shaine has worked with major music publishers, licensing companies, and even spent five years as a talent manager guiding the careers of top film and TV actors and indie recording artists. Today, he resides in Atlanta, GA, with his family where he's leading his editorial team into their fifth year of circulation.