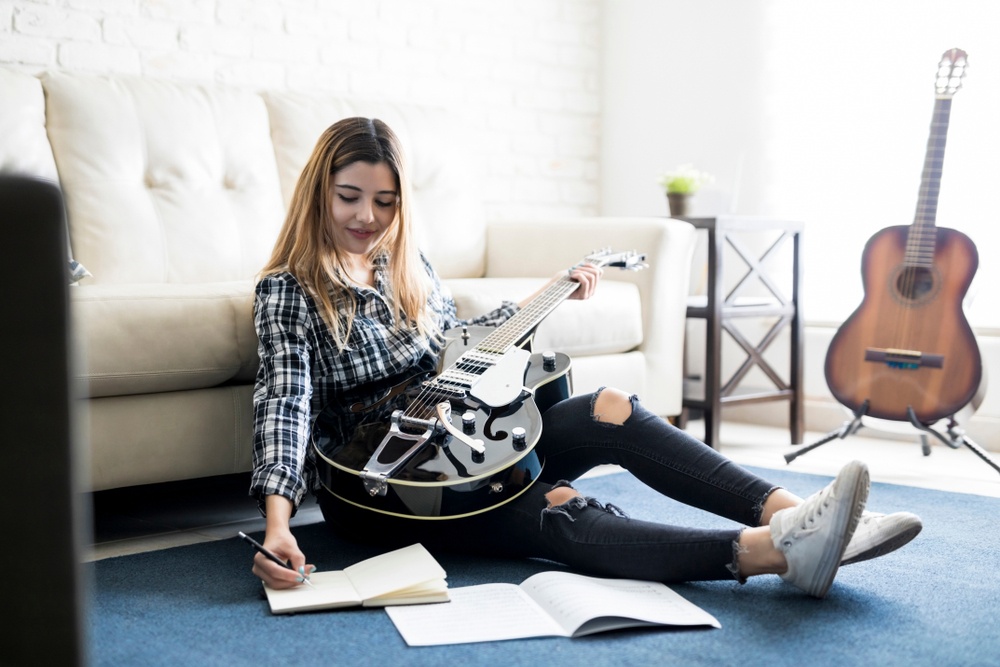 Image via Shutterstock
Songwriting competitions are an excellent way to raise your profile, get a little cash, and boost your confidence all in one shot. The sheer amount of songwriting competitions out there, however, can be overwhelming. Which ones are reputable? Which ones aren't? Not to mention that the crème de la crème, so to speak, can be potentially intimidating to apply to.
In this post, we'll walk you through the process and give you some pointers – as well as highlighting five of the more important competitions.
Deadline: November 5th, 2018
ISC is a well-established name with a great reputation. It has also helped several now-high-profile acts achieve their career goals – people like Andrew Bird, Vance Joy, and the Band Perry all have ISC commendations on their resumes.
This year, the grand prize is $25,000 in cash and prizes and will be judged by industry luminaries such as Tom Waits, Bastille, and Nancy Wilson of Heart.
For more details, including application fees and other requirements, click here.
Deadline: December 15th, 2018 (rolling)
This competition, named after the legendary songwriter and Beatle, has been around since 1997. But don't let that intimidate you – the contest is open to both amateurs and pros alike.
This one is a little bit different than some, however, as it's essentially run year-round but break it into two parts – Session I and Session II. That can add another wrinkle to an already stressful application process, but just know that all it means is that if you miss the deadline for Session I, Session II is right around the corner.
Even if you don't win, you can feel good about entering – proceeds go toward the John Lennon Educational Tour Bus, which provides music and recording opportunities for students.
For more information, click here.
Deadline: November 26, 2018
This is one of the new songwriting competitions on the block and a great opportunity for artists just starting out. The Music Factory will be scouring the entries and choosing their three top songs.
Those songs are going to get the full treatment – hand-picked session players will record a custom track of the winning songs. And that's not all – not only will the songs be mixed and mastered, the Music Factory will design cover art for your song and help prep it for release.
For more information, go here.
Deadline: December 1st, 2018
If your music takes on a more political bent, this may be the competition for you. The Renaissance Artists and Writers Association (RAWA) is passionate about restoring art to its original purpose – as an instrument of social change.
As such, RAWA is looking for songs that will inspire people towards making a positive, social-justice impact on the world – whether economically or environmentally. The contest winner will receive $500, and will appear along with the 10 runners up in a compilation CD sent to radio.
Check out more info here.
Deadline: April 1, 2019
This is sort of the artist branch of the International Songwriting Competition mentioned above. If you're an unsigned artist, you should check this one out. The goal of this competition is to find that diamond in the rough that needs a leg up – and you just might be what they're looking for.
The winner gets $20,000 in cash and prizes, as well as one-on-one mentoring with a team of top industry professionals. This alone is worth its weight in gold.
Check out the relevant info here.
3 Key Tips for Applying to Songwriting Competitions
As promised, below are some tips about applying to these and similar contests. I've stayed fairly general, but you can also get very deep into the weeds, if you choose, by researching the tastes, music, and demo quality of past winners, etc.
1. Spruce up your presentation
Presentation is key. Make sure your bio is hard-hitting and to the point. It should be no longer than one or two paragraphs, contain all pertinent information, and be free of typos. Your lyrics should look clean; be easy to read; include your name and contact info, as well as copyright info; and fit on one page. Make sure your pictures (if required) put you in the best possible light – you don't have to pay a photographer thousands by any means, but make sure it shows off your personality and looks good.
2. Be thorough
Fill out the forms as completely and thoroughly as you can – don't leave too many blank spaces. Blank spaces imply that you haven't thought through your entry or don't care enough to fill it out all the way.
Worse, it could come off like you are completely under prepared to even apply. You need to give yourself every possible advantage, so don't hobble yourself out of the gate.
3. Your music
Most importantly, how you present your music is vital. Some contests state a simple work tape is fine – and this is totally understandable. They don't want contestants spending hundreds on a slick demo only to be disappointed when they're not chosen. And obviously, production shouldn't rule over a great song that has a simple demo.
If your submission is just you singing off key into your iPhone, however, you're putting yourself at a disadvantage. I'm not suggesting a fully produced demo – you can easily record an excellent, simple guitar vocal (perhaps with some percussion) very cheaply. It's even possible to do this for free if you or a friend have your own home studio setup.
The genre you're in will also obviously dictate how stripped down you can get with arrangements – Americana or folk can be a lot more stripped down than, say, pop. Whatever you choose to do, stay true to the spirit of the song.
The point of all this being, you need to put some thought into your presentation. Show you care about your submission, that you take your art seriously, and feel you deserve to be there. This will help the judges see you that way, too. Whichever you decide to enter, best of luck. Keep putting yourself out there and looking for new opportunities!
Next up:
Daniel Reifsnyder is a Nashville-based, Grammy-nominated songwriter, having started his musical journey at the age of three. In addition to being an accomplished commercial actor, his voice can be heard on The Magic School Bus theme song and in Home Alone 2. Throughout his career, he has had the honor of working with the likes of Michael Jackson and Little Richard among many others. He is a regular contributor to several music-related blogs, including his own.