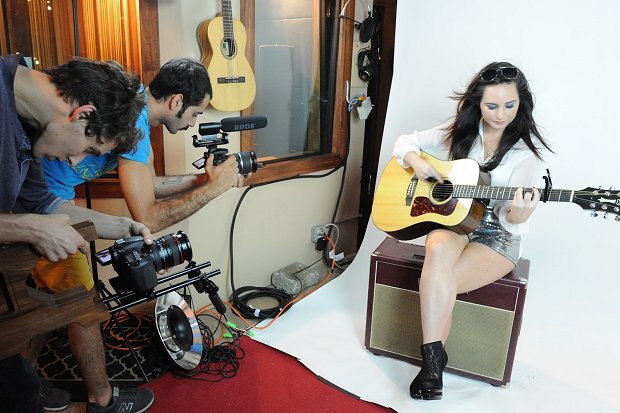 Image via thresholdstudios.com
YouTube accounts for nearly a fifth of all internet traffic, and you can be sure that a lot of music consumption comes from the platform, too. It's commonplace for record labels to upload an audio-only video for YouTube when they do a release, or ensure that they promote an album via YouTube, because it's such an integral part of how we use the web. While we all want to tap into the great (and complex) world of YouTube, it can be tough – especially when you're up against big-budget videos with production teams behind them. However, there are plenty of ways to capitalize on YouTube with some inexpensive and DIY tactics.
Below you'll find examples with videos for your reference. Most of these were shot with a simple camera, edited in iMovie, and pieced together with pre-existing photos and footage. Even if you aren't an iMovie or editing expert, you'll see how easy it can be to piece something together and still make it look professional!
1. Can't get the sound right? Throw in a montage
Technology is weird. Smartphones can greatly capture a live performance, and sometimes if the room is right, your smartphone can also capture good sound quality. While this is sometimes an anomaly, it's possible. But there are other times where it's quite apparent that video is great, but the sound is shaky or distorted. That's where the montage comes in.
A lot of talent buyers and other influencers look for highlight reels of your live shows. And while that iPhone may not have caught the best sound, you can likely still get away with a fun video that incorporates your music, live photos, and video footage from your set. You can also bypass that sound quality by layering in tracks from your album or single. Sure, it might be great to squeeze in that 30 seconds of good footage if possible, but it's perfectly acceptable to mix and match video, album audio, and live audio. To make it even more personable, you can throw in an interview angle to really make it shine and stand out.
[Ridiculously Easy DIY Tips for Shooting Multi-Angle Concert Videos]
The below video is indie artist B. Wash who created an intro video that incorporated live interview bits with videos and photos of live performances. This was all done with a camera, an iPhone, and iMovie. It cost the artist and his team very little to make. Since the artist already had photos, videos, and clips, they were just able to combine it with an interview and piece together this solid intro.
2. Shoot a vlog
Simply put, it's tough to get video footage from your shows. Especially clips that aren't shaky and are well put together. One way around this is to make a vlog, and it doesn't have to be complex. Outlets like Instagram and Vine thrive because fans get to see a glimpse of you outside of your music.
Similarly, a vlog allows fans to see you and your band behind the scenes. This can be you guys at rehearsal, on the road to a show, or just hanging out talking about upcoming events. It's free, and with some iMovie magic, you can include a nice intro, outro, and even some backing music.
The below video is a vlog by young artist Omar Alhindi when he first released his debut single, "Back To Me." Here, he's simply explaining his new single. This is another example of what can be done if you know your way around simple editing software! This was all done with a camera and iMovie.
3. Advertising on YouTube isn't expensive, so do it!
A lot of DIY bands shy away from advertising because they don't understand it, but try it! YouTube has rates as low as $5 a day, and you can cap that for as many days as you'd like.
[A Quick Guide to YouTube Advertising for Musicians]
Shoot an easy DIY commercial announcing a release, and link it to your iTunes, or make a commercial for your music video and use that as an ad. This also doesn't have to be technical; simple album cover art, the words "out now," and your single playing in the background for 30 seconds is a great ad. I know that if I see an artist who's put the time into advertising, I tend to always click that "view more" button simply because I'm impressed with his or her initiative.
You do need a Google AdWords account to run YouTube ads, but hey, chances are, you already have one! AdWords is a function of your Gmail account, so if you use Gmail to log into YouTube (which is highly likely, as they're partners), you're good to go.
If you don't have an AdWords account, YouTube's TrueView Ads page makes it very easy and straightforward to get you going, and they make it part of the ad creation process. Placing YouTube ads is a very user-friendly process; just a few clicks, and you're all set up.
The below video is a clip by The Crossing that can serve as a vlog, but could also be used as a quick YouTube ad for their EP and music video releases. This is another example of piecing together one 15-second clip of the band talking with pre-existing footage.
4. Lyric videos are key
A good lyric video is simple but so effective. Let's say you release a single, a few weeks go by, and the song is losing steam a bit, but it's too early to release another single. One way to combat this is by releasing a well-done lyric video.
[Why You Should Release a Lyric Video for Your Next Single]
This gets old fans to take a look at your lyrics and nod their heads to the song all over again, but it's also a great way to introduce new fans to your music. Something simple like a moving city skyline or another theme that ties into your music could make a great backdrop while the words flow on the screen.
Below is a very simple but effective example using The Crossing's "Atlas."
Find out more about marketing your music via YouTube:
As a music marketing strategist, Tyler Allen works with an extensive array of artists, labels, music tech, and music retail entities. Tyler began his music industry career with Sony Music Entertainment and RED Distribution, as well as the advertising industry. He is dedicated to giving veteran artists the tools to preserve their legacy, and new artists the tools to begin theirs (as well as everything in between). Learn more at wtylerconsulting.com. He also offers strategy and artist packages for DIY and indie artists on a budget, here.