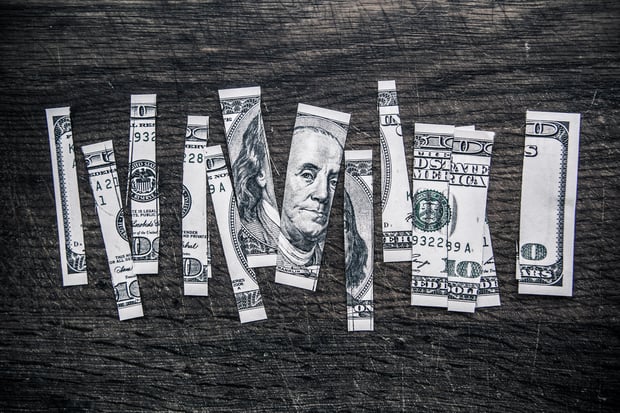 Image via Flickr / CC BY 2.0
In part one, we did a quick, to-the-point assessment to determine your musical goals and current career level. Now, in part two, we'll outline some common scenarios of hypothetical musicians and where they'll want to consider investing their money.
A note of transparency before we dive in: all of this is to help you level up your career and wisely spend your case. I don't mean to micromanage your wallet, only to offer insight on how to best achieve your goals.
A new artist
You'll want to start investing in items that are going to help you define your brand. At this stage, it's okay to be creating lots of new and even different-sounding music. You're developing. You're learning your voice and what moves you. You'll want to think about:
An established band with an upcoming release
Say you're a member of a band that's been around for a year or more. You've been on the road more often than you're home. You've written plenty of killer songs that are road-tested and forged in the fire of bars and festivals. Your regional fanbase is growing and you're looking to release your next (or first) album. Make sure you've got these things in the forefront of your mind:
Get new photos to update your image to reflect your experience and sound
Start crowdfunding for your new release; design amazing rewards that reflect the interests of your fans
Book time with an experienced and professional graphic designer to create your album art, merch designs, and other visual collateral
Focus on gathering email addresses at shows to grow your email list (this will help your crowdfunding campaign and enhance relationships with current fans)
Update your website to announce your upcoming record. Consider blogging and vlogging frequently to alert Google to your fresh content
You might consider meeting with booking agents if you need the assistance booking and you're actually making money at shows
Work with a quality, reputable producer/engineer on your record (you want your music to be the highest caliber you can afford)
Consider working with a PR team to help you get wider exposure for your release through interviews and appearances
In the months before release, consider a marketing team to help you ramp up for it
Invest in Facebook, Twitter, or other social media advertising based on the tastes of your fans
A songwriter looking for a publishing deal
Let's start with some options for the new writer who's just starting to get serious about making a career out of songwriting:
Invest in songwriter membership circles like NSAI and Global Songwriters Connection, and go to local chapter meetings
Purchase professional feedback sessions to get current music industry critiques on your material
Work with local artists and co-write songs with them
If you're a performing songwriter, book shows (even open mics) and get stage time to test out your tunes
Consider a trip to Nashville or another music hub to experience the music industry
Go to panels and workshops to learn all you can about how publishing, copyright, record labels, and other institutions inside the music industry operate
Start saving up for demos (you'll need to spend some money on quality recordings to pitch your material)
Consider learning about and investing in home recording
Once you've gotten some good songs to pitch, consider attending a pay-to-pitch event to see how a publisher pitch works
Consider a subscription to a tipsheet like Rowfax
What was the best investment you ever made in your music career? Let us know in the comments!
Sarah Spencer is a singer/songwriter and blogger, working, living, and playing in Nashville, TN. By day, she's the creative director at boutique creative agency for the music industry. When she's not on the web, she's writing songs, playing shows, and singing as a session vocalist.