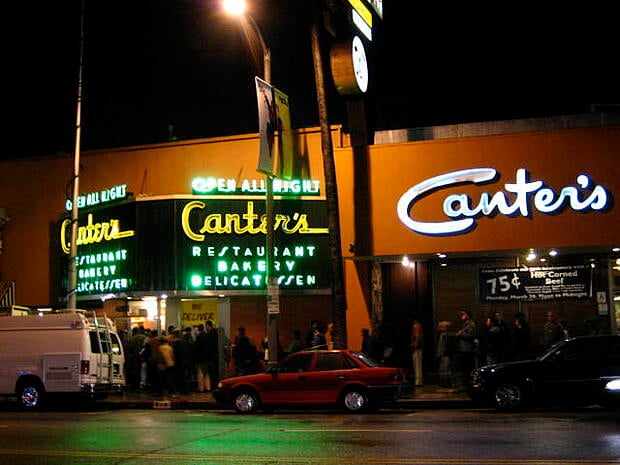 Canter's Deli. (Image via thenedfiles.com)
Los Angeles certainly has its fair share of great music venues. But what if you're looking for something a little different? Stop playing it safe and check out these five nontraditional venues that might be looking for some local music talent.
This bar in Hollywood has a makeshift thrift store in the front and an epic party space in the back. Step through a vintage refrigerator door, and you're transported back in time (a good 40 years or so). With its '70s décor, alcoholic snow cones, choreographed roller skating performances, and damn good backyard barbecue, Good Times at Davey Wayne's is one of the coolest new bars in Los Angeles. More importantly, the bar also hosts living room-style music performances. The setup is a little tight, but the intimacy only adds to the appeal.
If there's one thing that Angelenos cannot live without, it's food trucks. And there's no better summer experience than grabbing dinner from a food truck, setting up a picnic blanket, and waiting for a classic movie to begin on an enormous outdoor screen. From May to September, Showtime's Eat, See, Hear screens weekly outdoor movies for hundreds of people. So those are the "eat" and "see" parts, but what about the "hear"? Well, that's where local bands and artists come in. Prior to the movie beginning, musicians warm up the crowd for a good 30 to 45 minutes. This is the perfect way to get your music out to a huge (and friendly) audience.
The name isn't all that accurate, but The Last Bookstore in downtown LA is an artist's dream. More than 100,000 books (priced at $1 each!) line the shelves of this huge store. A record section was added a few years back, and the bookstore hosts various authors, artists, and musicians. Although there aren't nightly music performances, The Last Bookstore is worth checking out.
Want a pastrami sandwich, matzo ball soup, and a side of live music? Head to Canter's Deli, a Los Angeles staple since 1931. Located on Fairfax in the heart of Hollywood, Canter's Deli is the place to come if you're hungry anytime, day or night. Head to the Kibitz Room Cocktail Lounge for some drinks and live, local music. There's so much history at Canter's, too. The Doors and the Byrds frequently showed up throughout the '60s. Flash-forward to the '90s, and you could find Guns N' Roses, the Wallflowers, and the Red Hot Chili Peppers jamming in the Kibitz Room. If you're looking for a place to play that's full of history and serves up a killer pastrami on rye, Canter's Deli is the place for you.
The Snug isn't necessarily a nontraditional venue, but it's certainly one-of-a-kind. This mini-venue set in an Irish pub comes outfitted with a full lighting and sound package. Five nights a week, you can catch local bands and artists at the Snug. From pop to hip-hop to hard rock, the Snug is certainly an artist-friendly venue.
Know of any other nontraditional performance spots in LA? Let us know in the comments below!
Ryan Pfleiderer helps create music videos for digital distribution. He's a fan of discovering new, up-and-coming talent. He currently works at Maker Studios in Los Angeles.