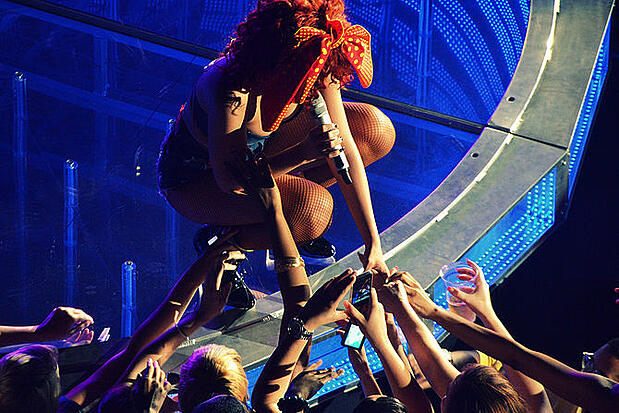 Rihanna is an example of a social media superstar. (Image via forbes.com)
This article originally appeared on Forbes.com.
Editor's note: All of the data included in this article is via research conducted by Next Big Sound.
There is little doubt that Rihanna is the definition of a superstar. Her discography is littered with multiplatinum albums and singles. She has successful worldwide tours under her belt, countless Grammys, AMAs, Brit Awards, and even a nod for The World's 100 Most Influential People from Time magazine in 2012. And her level of celebrity is reflected in a vast online following.
With close to 90 million page likes, Rihanna is one of the most popular artists on Facebook. She counts more than 37 million followers on Twitter, and has surpassed 7 billion total video views on Vevo. But that hasn't always been the case. As artists increase in popularity, so does the size of their social following. In fact, it does so by the rule of proportionate growth, meaning that the more fans you already have, the more fans you will add.
Research shows there are no natural thresholds that stand out on the journey from 10 to 10 million. Instead, key milestones in an artist's career help to delineate what their social footprint typically looks like at each stage, from "Undiscovered," to "Promising," to "Established," to "Mainstream," and finally "Epic." This type of context allows artists, managers, and labels to better determine how much social activity to expect on a daily basis, and sets benchmarks for how long an artist will spend in each stage of his or her career.
Undiscovered
The median social following for a fledgling artist when they sign with a major record label is perhaps smaller than expected. About 50 percent of artists have already inked a deal by the time they have either 20,000 Facebook page likes, 5,000 Twitter followers, or one million YouTube views. Last year, it was discovered that approximately 90 percent of all the artists in the Next Big Sound database had not yet reached these benchmarks, and could be considered "Undiscovered."
There are, of course, always going to be exceptions to the norm across all stages in the artist lifecycle. There are artists who sign with a label long before they establish a strong social presence, and artists who sign much later in their career, after building a significant following online.
One example of a band whose social following falls within the range of "Undiscovered" is Brooklyn-based Midnight Magic. The group counts close to 10,000 Facebook page likes, about 2,300 Twitter followers, and 650,000 YouTube video views. They're currently seeing the most activity on SoundCloud, averaging more than 1,000 plays a week in the past month.
Promising
At this stage in their career, artists have signed with a label and are working on their first major release. They're developing their image, building an audience, and steadily expanding their social reach. Artists typically spend about 566 days in this stage of their career, classified as "Promising" until they reach 200,000 Facebook page likes, hit 80,000 Twitter followers, or pass seven million YouTube/Vevo views.
The Wytches, a psych-rock band based in the UK, have just reached the "Promising" stage of their career. Already generating a lot of buzz, the band has more than 11,000 Facebook page likes and 7,300 Twitter followers. They signed with Partisan Records in early 2014, and released their debut album Annabel Dream Rider over the summer.
The Wytches are performing far above expectations for daily values for this stage. The typical "Promising" artist sees about 40 new Facebook page likes per day, 10 new Twitter followers, and 900 daily video views. The Wytches added an average of 85 page likes, 20 Twitter followers, and 1,900 YouTube video views per day in the past month.
Established
Artists and bands begin to really establish their career and reputation in the US once they land a late-night television appearance. Established artists have not yet broken into the mainstream, but this single performance on Conan or The Tonight Show with Jimmy Fallon is a foundational milestone, broadcast across television sets nationwide, and leaving millions of impressions that elevate awareness around an artist.
Canadian singer-songwriter Kiesza had her debut network television performance on The Late Show with David Letterman in July, promoting the release of her four-track EP Hideaway. Kiesza counts more than 266,000 Facebook page likes and 15 million Vevo video views to date.
Artists typically remain in this stage of their career for about 339 days before breaking into the mainstream, and should be seeing about 9,000 YouTube/Vevo views, 300 new Facebook page likes, and 100 new Twitter followers on a daily basis. Kiesza is also currently far exceeding expectations for performance, with a daily average of 213,000 video views, 1,650 Facebook page likes, and about 220 Twitter followers within a week.
Mainstream
Artists make the jump to mainstream once they hit the upper echelons of the Billboard 200, the leading US album chart. About 20 artists reach the top five each year, and at this point they have typically captured more than 600,000 Facebook page likes, 300,000 Twitter followers, or 40 million YouTube/Vevo views. Not only does the pool of artists that reaches this stage start to get smaller and smaller, but this is also the stage where artists spend the longest amount of time – typically about 959 days.
Songstress Leona Lewis can be aptly described as a "Mainstream" artist. Her debut studio album Spirit peaked at #1 on the Billboard 200, and spent a total of 61 weeks on the chart. Lewis' Facebook following is six million strong, she has close to 1.2 million followers on Twitter, and just passed 399 million Vevo video views in total, more than one million of which occurred in just a week.
Epic
This is the stage where we find the Rihannas, the Eminems, and the Lady Gagas of the world. In order to be considered an artist of epic proportions, an artist will have several multiplatinum releases in their arsenal, more than 400 million video views on YouTube or Vevo, an excess of 10 million Facebook page likes, and more than 2 million Twitter followers in total. Only a very small portion of artists make it to this stage; in 2013 only about 0.2 percent of all artists tracked were classified as "Epic" artists.
Off the back of an extremely successful debut album, indie rock band Imagine Dragons made the leap from "Mainstream" to "Epic" in May, and now count 10.6 million Facebook page likes and more than 563 million Vevo video views in total. In the spring of 2013, Imagine Dragons would have been classified as an "Established" band, meaning that they spent only a little more than a year in the "Mainstream" stage before reaching "Epic."
Not every artist is going to make the leap from "Undiscovered" to "Epic." How artists perform in comparison to benchmarks for daily activity in each stage and the overall rate of social growth have to be taken into account. For instance, it takes, on average, 257 days to go from 20,000 to 50,000 Facebook page likes. Artists who eventually reach a million Facebook page likes earn those 30,000 new followers at a much higher rate, hitting an average of just 117 days.
There are hundreds of thousands of active artists with a social presence with billions of Facebook page likes, Twitter followers, YouTube, and Vevo plays up for grabs. This framework for the size of an artist's social following at any given stage of their career provides context around social data and traditional criteria for success, making it easier to link the two together.
Liv Buli is the resident data journalist for music analytics company Next Big Sound. She grew up in Oslo, Norway, but moved to New York to get her master's degree in journalism at NYU's Arthur L. Carter Journalism Institute. Her work has appeared in Newsweek Daily Beast, Forbes.com, Billboard, Hypebot, and more.