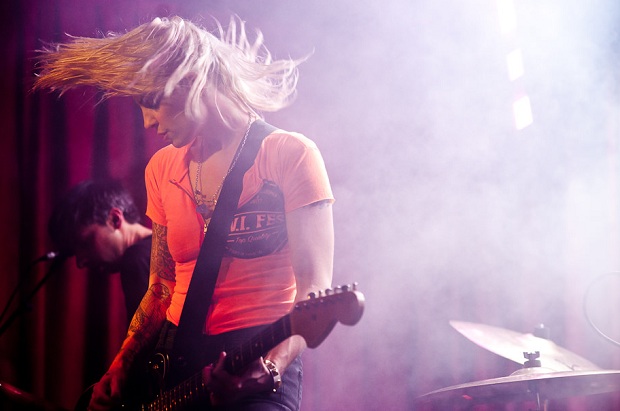 Brody Dalle (Image via gigwise.com)
You've honed your skills, and you're at the point where you want to start gigging with a band. Joining a band is the easiest way to hit the ground running with the opportunity to perform in front of a ready-made fanbase. Yet, it may be difficult to find a group of like-minded individuals playing the music you enjoy. So does it make sense to try to join an existing band, or should you just form a band of your own? Let's take a look at the pros and cons of each to help you decide.
Joining a band: the pros
"I'm an only child, and I joined this band, and I had three brothers." – Ringo Starr, the Beatles
Joining a band has its benefits. When you join a band, you may get to work with musicians you admire. You could connect with seasoned professionals that inspire you to become better at your craft. Not to mention that joining an established band increases the chances that you'll be gigging sooner and regularly and perfecting your stage performance skills. They're more likely to have developed long-term relationships with booking agents and venue owners that enable them to land better gigs.
Joining a band: the cons
"Finding a good band is like finding a good wife. You got to keep trying till you find the right one." – Ace Frehley, KISS
Joining a band, however, means you cannot pick your bandmates and you'll have limited creative control. You're walking into a situation where the band members have a history and may have formed a tight clique. Your task is to learn how to fit in. You could wind up with really cool bandmates that begin to feel like family, but if they have polarizing personalities and a myriad of personal issues instead, you must deal with it or quit. As a new member, it's unlikely that you'll have significant input in the song selection, rehearsal process, or rehearsal and performance schedule. If you decide the band is not a good fit, though, you can always resign and search for another one.
Forming a band: the pros
"I don't wanna hang out with a bunch of wannabe corporate sellouts. I'm gonna form my own band and we're gonna start a revolution, okay?" – Dewey, The School of Rock
If you want more creative control and assurance that you'll be playing music you enjoy in venues you prefer, forming a band may be the best way to go. Recruiting your own members allows you to select players with the skill set you desire and individuals you believe you'll have chemistry with. As the band's founder, you control the creative direction. You can dictate the size of the band, song selection, band's image, target venues, and rehearsal and performance schedule.
Forming a band: the cons
"The hardest thing in the world to do in this business is start a band nobody's heard of." – Tom Whalley, Interscope Records
As the founding member, you'll have to manage the responsibilities of the band until you delegate them to others. This means you may have to shoulder the initial startup costs and function as the band's manager, booking agent, and promoter. This includes finding and hiring talent as needed, securing gigs, promoting performances, and managing the personalities in the band. Once you book a gig, you'll be responsible for ensuring the band fulfills its contractual obligations. You will be considered the bandleader by default and must assign these tasks to others if you do not want the authority. Even in the most toxic situations, you may be slow to replace members or disband because you've made such a large personal investment.
Before making your decision, explore the bands in your area and determine what you want from the experience. Take every opportunity to network with local musicians, schedule a few auditions, observe the dynamics of each band, and then weigh your options. If you cannot find a band you like or feel there's a void in the local music scene that you'd like to fill, take the reigns and form a band of your own.
What are some other important things to consider when joining or forming a band? Share your advice below.
Shanon Lee is a professional writer and independent recording artist. Her bylines include The Huffington Post, MariaShriver.com, xoJane.com, and many other digital publications. While recording her second EP, Shanon also provides consultation to aspiring singers and music recording studio owners that wish to expand their business.