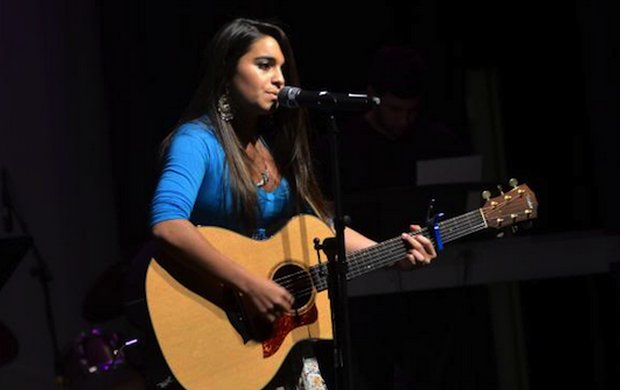 Photo by Romanus Dolor
Auditions are often a big part of the performer life cycle, and unfortunately for many musicians, the skills needed for them tend to be overlooked. Much of what I'm about to discuss might seem obvious, but you'd be surprised how many of these points are weaknesses of the vast majority of aspiring performers that I see. So whether your next audition is for an A&R rep, a music venue, local talent show, or even that TV singing competition you swore you'd never be caught dead on, here are six important tips for nailing it.
1. Have a strong introduction
Know how to present yourselves, talented people! So many musicians lack the business and interpersonal skills required to make this very important connection with people who are the "gatekeepers" for great (and sometimes career-changing) opportunities. Speak clearly, be assertive, and act like a professional. And remember, your audition begins the second you enter the room. Your demeanor is on view as much as your talent.
Upon entry, shake hands if it's appropriate to do so. When introducing yourself, make eye contact with whom you are speaking. Discuss your related experience and what would make you a great fit for the gig, and be concise and to the point. Oftentimes, auditioners see tons of candidates in the same day, so make the most of your time with them, keeping in mind that their attention span is short and you have a limited time frame to express what makes you different and special.
2. Get comfortable "selling yourself," and learn your "artist elevator pitch"
I find that most artists fall into one of two categories: the super-talented that speak about their abilities like they're recalling their fifth grade science project on photosynthesis, and the mediocre talents that have heads so big that you wonder how they fit through the front door. Be confident, but be humble, and show your hunger for growth and success.
As artists, we must get comfortable with the idea of "selling ourselves." We are all really entrepreneurs, after all. Your "artist elevator pitch" should be a 30-second rehearsed speech that answers the following questions clearly and succinctly: Who are you? What do you do? What are your goals? Make sure to harp heavily on your strengths and qualifications for this opportunity, and articulately express your value. Tailor your responses to the specific audition you're going on, and remember: practice makes perfect! Rehearse to yourself and friends and family until you get it down. And no need to be nervous, because you know all the answers about you!
3. Excuses are lame
There's nothing an auditioner hates more than excuses. When you walk into that room, give it all you've got. Disclaimers never go over well. If you're sick, no need to mention it unless the auditioners ask. And if you're really that under the weather, chances are they'll inquire about it anyway. Also, be sure to avoid the, "Well, it would be different if…" excuse. People use this all the time. For instance, they say they'd have much higher energy if they were in a different setting. But I've got news for you: If you can't perform in a small room with two people in it like it's the big time, no one will take the chance of putting you onstage in front of tens of thousands.
If you normally play with certain equipment or comforts, come prepared accordingly. If you typically sing a song in a certain key, then have your music ready that way to begin with. And even if your audition doesn't go as well as you'd hoped, stand by your work. Do not, under any circumstances, make excuses or apologies for what you've done. No need to draw more attention to any weak areas; allow the auditioners to come to their own conclusions about how they feel you did. That is their job, after all.
4. Connect with your audience in 20 seconds or less
This is a big one. You've really got a very short time frame in which to connect with your audience and sell them on your talents, especially in an audition situation where time is limited, and you're competing with others for an opportunity. Once you begin to perform, focus on doing exactly what you came there to do. Engage your audience and be sure to make eye contact throughout. Show strong stage presence, try to not get too lost in what you're doing, and make sure to include your "wow" moment in the first 20 seconds of your audition so you never risk getting cut off beforehand.
5. Come prepared for success
There's nothing worse than being approached for an opportunity and having nothing to give someone for follow-up. Take the time to organize your marketing materials before you go to any audition or performance. With all the internet has to offer, there's no excuse to not have the basics prepared. You should always have several business cards on you and, depending on the specific line of work you're in, possibly also headshots, resumés, comp cards, and music samples (CDs, USB stick, download cards, etc.). And if you need to bring musical materials to your audition, expect the worst and you will always be adequately prepared. That means bringing extra lyrics, sheet music, any backups needed for your instrument, additional song selections, contrasting-style pieces, chargers for electronics, water if you'll have a long wait and could become dehydrated, etc. Always think ahead!
6. Leave a lasting impression
A simple "thank you" goes a long way in this business. The last things you say before you leave an audition conclude the final impression you've given. Assume that the auditioners have been there all day long, seeing nothing but duds. Be that breath of fresh air that says, "Thank you so much for your time today. I really appreciate it. It's been a pleasure being here, and I'm grateful for the opportunity." Chances are, no one has expressed their appreciation for their efforts all day, because most people are too consumed by their own self-interest, nerves, and their mind's preoccupation with a million other things.
Have a positive attitude, shake hands on the way out if you can, and say any last words about how you feel this would be a great opportunity. And don't forget all of the stage managers, accompanists, producers, assistants – thanking them goes a long way, too. No one expresses gratitude to them, as they're more of the behind-the-scenes characters. But their opinions are often heavily weighed, and when your picture is the last one left on the table with one other talent, you'll appreciate them throwing in their two cents about how you seem "easy to work with and so appreciative for the opportunity." That might be your express ticket to the next round or even landing the gig!
Remember these simple tips the next time you have an audition opportunity. The more you get out there and practice these skills, the better and easier it will get! As musicians, our lives are pretty much just one big, winding road of auditions. Whether in a formal setting, at a rehearsal, or playing a show, you never quite know who will be watching, so always be prepared to nail it!
Christine Occhino
is the founder and artistic director of The Pop Music Academy and has experience working at Columbia Records/Sony Music Entertainment, in addition to working as a performing artist for over a decade. She has a bachelor's degree in music business & management with a concentration in entrepreneurship and vocal performance from Berklee College of Music, where she was a vocal scholarship recipient and former editor-in-chief of
The Berklee Groove
.