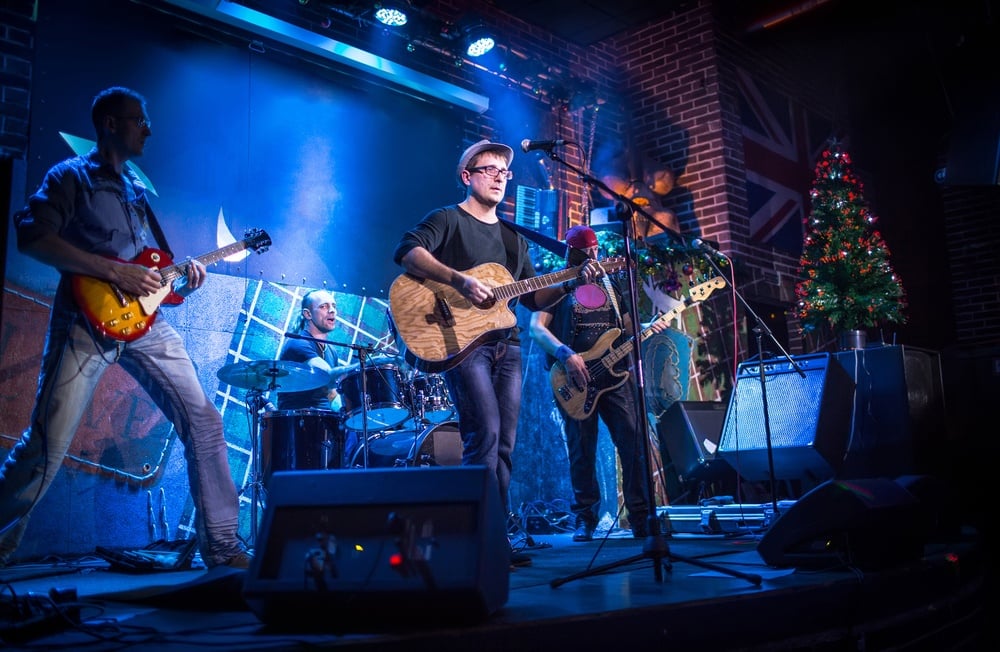 Image via Shutterstock
Like with most DIY efforts as an indie musician, planning is key to successfully promoting your shows. A thoroughly organized strategy that includes plenty of lead time means you'll get more mileage out of the promotional tactics you employ. Considering everything else you've got on your plate, both band-related and personal, the extra efficiency is well worth mapping out your moves in advance. Here's a step-by-step guide to make that even easier.
1. Ideally, you'll begin promotion at least two months ahead
You won't always have this much lead time; sometimes bands can't be too choosy when booking gigs. Whenever possible, though, get a date at least two months out. (Three is even better!)
[The Beginner's Guide to Booking Gigs: A Step-by-Step Timeline]
2. Tease the event
Announce the gig as soon as it's confirmed – even if you don't have the full lineup ready. (You can always release that info later, or even post the bill piece-by-piece as additional promotional content.)
A full-fledged poster isn't necessary at this point. Facebook's algorithm tends to frown upon images with lots of text anyway, so choose a band photo or one of your videos as the centerpiece for a message that goes something like this: "Just confirmed! Next show is on X date at X venue! Stay tuned for the full lineup and more details!"
Post that announcement in intervals on your various channels according to each platform's peak usage times. Start with the account that has the biggest following. The next day, hit the next one on the list, and so forth, until you've covered them all.
3. Get your poster and flyer designs together
You should aim to have your poster and flyer designs ready to post within a week of booking the show. Check out tips for eye-catching poster and flyer design from a professional graphic designer here. If you're new to design, read up on the basics and learn DIY hacks first.
Keep in mind the dimensions for event images on Facebook is 795 x 284 pixels. It's possible to make a full-size poster that doubles as the event banner, though it does somewhat limit the possibilities of your design. In any case, use this helpful reference to better understand how your image will look on the event page.
4. Create a Facebook event
Within a week or two of confirming the date, you should have your lineup ready. (If not, you should get the Facebook event up now anyway, then add more info later.) Upload your image, fill in the info fields, then prepare your "about" section.
It should include the following:
A brief intro: Come up with something clever if you can, but at the very least include some address to entice invited users, e.g., "Come party at our album release show!" or, "Don't miss our last show of the year!"
Social media/music pages of all bands involved: Link the other band(s) on Facebook (using the @ tagging method), and list up to two pages beneath that. At least one should lead to free-to-stream music, e.g., YouTube or Bandcamp.
Cover charge, date, time, and location: All of that's included on the poster, and you're going to list it in the event info fields, too. Still, include it at the end of the "about" section as well.
For more tips on boosting the likelihood of RSVPs to your Facebook event, check out this post.
Narrow your invitation choices by location, then check as many users as Facebook will allow. Sometimes they'll cap you at 50. Regardless of how many you're personally able to send, have everyone else in your band to send as many as they can, too.
Note: Make sure you're creating the event via your band's page, not your personal account. Sounds like common sense, we know, but it happens – and usually gets listed as private, and Facebook will not allow you to change it to public after the fact.
5. Share the event and post on other channels
Facebook will automatically include the creation of your event in your band page's timeline. Now (as in immediately after creating the event) head back to your personal account to "like" and share (with comment). Remind your bandmates to do the same, and reach out to the other bands on the lineup for help spreading the word.
Edit your "about" information on all of your channels to included a shortened link to the Facebook event. The following day, post the event on one of those platforms. The day after that, post on another. Continue this process until you're out of platforms.
Once you've got some attendees accumulated, send the event link over to the venue, talent buyer, or whoever helped you organize the show. Let them know you'll be stopping by soon with posters to hang up.
If you have a newsletter, be sure to send out a notice about your show with the poster or flyer and a link to the event.
6. Reach out to press
While press at any point can be hugely beneficial, pre-show coverage will serve you far better than a live review in terms of drawing a crowd. Contact writers at local papers, alt-weeklies, online magazines, and blogs as early as you can to better your chances.
College and online radio stations are another option you should definitely consider. Writers are looking for a reason to feature your band – an angle, something newsworthy – and oftentimes, an upcoming show simply isn't enough. In your inquiry, try to include more incentives for highlighting your music right now. Just a few examples: you'll be playing new material from a forthcoming album at the show, it's a tour kickoff, or it's a new member's debut performance.
What you do to link your show is subjective to the goings-on of your band, but do remember that most outlets won't interview you solely because you're playing another local show at the same local venue in two weeks.
For help writing a press release, check this post; you can find a standard template and more tips in this post.
7. Distribute posters and flyers
Timeline check: at this stage, you should still be at least a month ahead of your show. Now is when you get your posters and flyers printed. (If you don't have a go-to, price-check local print shops, or look to musician friends or other community networks for recommendations.)
Hang up flyers at the venue you're playing. (You should have given 'em a heads up in step five.) Leave some flyers, too. Head to other spots where your fans or target audience hang out; ask if you can put up a poster or two. Choose high-visibility areas: bathrooms, front windows, doors, patio walls.
Rather than leaving stacks of flyers at various businesses – they're often disregarded, sometimes even thrown away – consider saving the bundle to hand out at events instead. Check Facebook and venue websites for events you think your fanbase or target audience will attend and hand out flyers individually. Save a handful of your flyers – more on this later.
8. Maintain a steady social media push
In the weeks leading up to your event, you want to keep a steady flow of promotional posts going – but you don't want to annoy your fans, either. Post sporadically within the Facebook event: a relevant gif or meme, your latest video, a single from SoundCloud. You can post content on behalf of the other bands on the lineup, too, and you should encourage them to get involved as well.
Post like-minded content on Instagram, Twitter, and the rest of your social media channels. Again, don't overdo it. Keep these rules for moderation and content in mind.
9. The final countdown promo push
It's crucial to continue promoting until the last day – especially during the week of the event. Share on all of your channels a few days before and on the date of the show, and make sure your bandmates and other bands on the lineup do the same.
If attendance numbers are lagging, boost your event on Facebook. Even a $1 boost the day before will significantly widen your reach. (For the final week, a $20 boost is even better, of course.)
Remember the flyers you saved in step seven? This step is where you'll hand those out. A few days or the night before your show, hit the streets – specifically any event, bar, or club where you think your fans (or potential fans) hang. Invite people individually; the personal touch can really help, especially when the event is only a day or two away.
10. The day of the show
Post, post, post! Okay, don't post too much. Once in the morning and again in the early evening at minimum on your band pages, as well as personal. Also consider posting on your band page again once you arrive at the venue – a photo or a clip of soundcheck is ideal.
Since you'll be sharing more than once in a single day, be extra sure you spread out those posts across your various platforms rather than concentrating on only one. Photos and videos of the other bands performing makes for great content, too.
Once you've played your super incredible, totally mind-blowing set, don't forget to follow up. An independent musician's work is never done, you guys!
Next up: 5 Effective Ways for Cash-Strapped Musicians to Promote Their Gigs
Jhoni Jackson is an Atlanta-bred music journalist currently based in San Juan, Puerto Rico, where she juggles owning a venue called Club 77, freelance writing and, of course, going to the beach as often as possible.