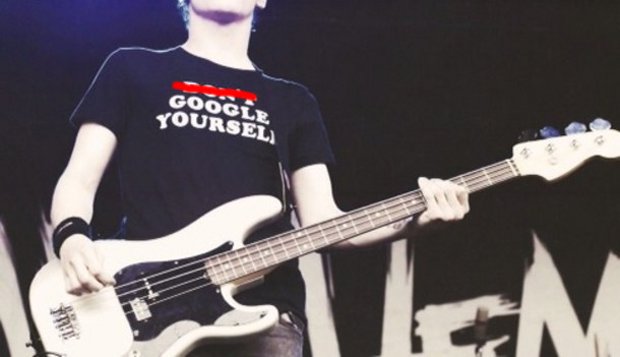 Image via wheretoget.it
One of the reasons folks like me can consistently work in music marketing is largely due to the fact that the digital landscape is constantly changing. It's constantly in flux with new media platforms appearing a few times a year and others fading into obscurity. In that kind of changing environment, it's all about staying current and concise.
When I first begin working with an artist or band on their digital presence, one thing I always get asked is, "Should I be on Platform X?" or, "I signed up for Platform Y and Z but stopped using them. Is that okay?" While it's natural to hop onto new and trending outlets, it can actually be detrimental to your overall online image. Here are three insights in cleaning up your band's virtual junk online.
1. We Google everything
Ever get a call from a strange number, and instead of answering it, you Google the number first? Or, maybe after meeting a potential business contact, you give him the ol' Google search before calling him? This has become the new normal. And it 100 percent applies to musicians, too. Booking agents, A&R reps, music supervisors, music journalists, and more will likely be typing your band's name into Google once they get that EPK or press release, and what are they going to find?
Well, what do you want them to find? Hopefully, the first thing to pop up will be your (updated) website or your successful Facebook page. Unfortunately, this isn't always the case. I recall a particular client of mine who landed a huge deal which garnered great press coverage, but when Googling her name, an outdated Myspace and Bandcamp page came up first. About halfway down the page were the news articles and her new website.
Not only was this bad because the pages weren't updated, but on the Myspace page, she had old demos and old photos from early in her career, long before she grew into the powerful vocalist she is today. Some of this can be chalked up to SEO, but this mostly has to do with registering for trending platforms and not keeping them current.
If you've given up on one of the "major" outlets such as Facebook or Twitter, try using a scheduler such as Hootsuite or Buffer to schedule content in advance. That way, you can spend one afternoon scheduling content for the next couple of weeks.
Bottom line
If you aren't using an platform anymore (and you're doing fine without it), get rid of it! Not only is it a faux pas to have outdated content, but it's also probably not representative of who you are as an artist today.
2. You don't have to be everywhere
The myth in digital marketing (for brands and musicians, alike) is that you need to be on every current and popular platform. This isn't necessarily true, because no two bands or brands are alike.
For instance, I work with a veteran artist who has a large following in the drumming world. He gets a lot of his work sampled in hip-hop and does a few clinics and small tours throughout the year. His goals are to keep fans in the loop and to connect with music supervisors. That's it. Therefore, Facebook and Twitter serve as his main outlets for his show information. Then, we have his manager on LinkedIn, connecting with the appropriate supervisors for licensing.
What he has works for him. We could consider Instagram for photos of his live shows, or maybe warm-up videos, but that type of media is performing just fine on his other outlets. We could maybe make him a Pinterest board with drum quotes, but is it necessary? Nope.
I have another crossover pop music client, however, who is making his way into the US market. He has a very active and jetsetting type of career, so we have him posting Instagram shots of his plane rides to and from the US, set photos of his music video shoots, and so forth. We also have his Facebook geotargeted to the US so we can start picking up traction here.
Bottom line
Different things work for different musicians, but you don't have to be everywhere just because the channels exist. What works for you and your goals? It might just be one platform; it might be four. See what vibes well with your artistic goals and fan feedback.
3. Always keep the necessities up to date
Two components that are often outdated are your EPK and website. "News" pages on band's websites can be very misleading, because if you haven't gotten any news since 2011, does that mean you haven't done anything noteworthy in years? Or have you just not updated your stuff? Are you still active?
Make sure your event calendar, bio, and all necessary information stay up to date. I set a time every other month with my clients to go over every platform together and see if there is any information that we need to revise. This includes website and EPK information, as well as the bio sections on social media outlets such as Facebook and Twitter.
Bottom line
Get your stuff up to date, so you can look sharp and professional when the right people are looking to book or sign you.



As a music marketing strategist, Tyler Allen works with an extensive array of artists, labels, music tech, and music retail entities. Tyler began his music industry career with Sony Music Entertainment and RED Distribution, as well as the advertising industry. He is dedicated to giving veteran artists the tools to preserve their legacy, and new artists the tools to begin theirs (as well as everything in between). Learn more at wtylerconsulting.com.