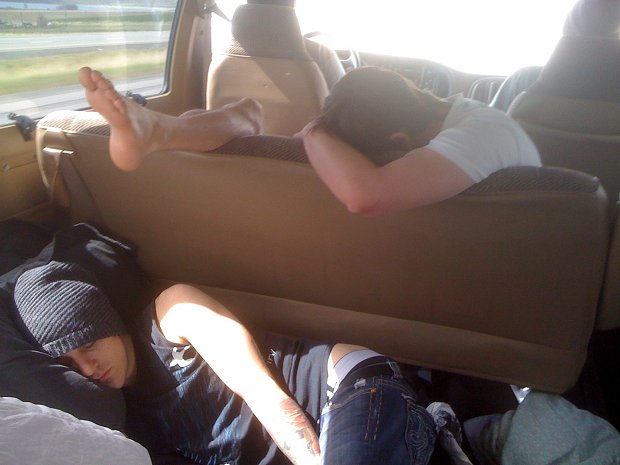 Image via raiseyourband.wordpress.com
A traditional album cycle typically follows the same steps: pre-release, street date, touring – at least as far as press is concerned. These benchmarks are easy to identify, and the work required is somewhat-clearly delineated. But how do you keep the hype going after the last step – your tour – is over? Here are four ways you can maintain some buzz, even after your wheels have stopped spinning.
1. Harvest material from shows
This is something you can (and should) start doing while you're still on the road. Whether you're handling your own publicity or you've got a publicist hustling on your behalf, live reviews (especially with photos) make great fuel for future plans! If you're pitching local outlets, be sure to keep photos in mind as a viable option for press coverage. Should journalists choose to cover your show, you'll have some nice live pics to give them and maybe even some solid pull quotes. (This goes without saying, but always credit your photographers. Yes, even on Instagram.)
You can also comb
social media
for live photos, tweets, etc. that might be helpful for fan engagement. These are great for Instagram's popular Throwback Thursday (#TBT) trend. Plus, sharing photos gives the fan who took them a bit of the spotlight. If you're about to head out on the road, brainstorm unique/easy
hashtags
that fans can use for your shows. That way, it's easier to measure your success after the fact. You can even use platforms like
Storify
to collate fan photos, tweets, and more.
2. Repurpose your merch
So, you overshot your numbers on the merch order. Maybe it's slowly engulfing your apartment, blocking the doorway, and you can't seem to locate your cat. Post-tour is a great time to do a flash sale of "tour exclusive" merchandise – meaning marked-down prices for a limited time. You can also use surplus merch as a means of direct fan engagement by hosting giveaways on your social media profiles. Plus, this could give a fan who missed out a second chance at grabbing a T-shirt or poster.
3. Tend newfound relationships
If a writer from a local paper came out to review your show, and you didn't have a chance to say hello, send him or her a little thank you note. Nothing sleazy, not asking for anything – just saying thanks. If you snagged a business card from anyone on the road, follow up. Don't let your connection simmer, then hit these people up for something months later.
This same philosophy applies to your fans! While you don't need to stay as active on social media as you would on the road, you definitely can't fall off the face of the online world. Maintain a presence and stick to your personality/preference. You want to be around, but not bludgeoning people with the same news over and over. One example is that you could be keeping up on Twitter with conversational things and using Facebook for bigger announcements.
4. Draft a game plan
Just like football, there's no off-season in music. If you're planning on coming back for another season (read: album cycle), then you've got to have a strategy in place. That being said, your plan can and should factor in relaxation time. Plan a vacation, but if you want to get the ball rolling on new material, figure out a rough timeline. Obviously, you want to go with what works for your band, so sketch out an idea of how you want things to go. Your biggest goal in doing this is capitalizing on the goodwill you've stocked up from your time on the road.
When putting together your plan, keep in mind what an album timeline looks like. Three to four months out from release day, you'll want to start servicing the record to press. This means you'll need mastered songs, agreed-upon sequencing, album art, press photos, a bio – and a release date. It's helpful to target an ideal release date and work backwards. Say you want to release your next album in September 2015. You'll need to have a mastered, properly sequenced album delivered (along with everything else) by May 2015. Taking every member's schedule into account and start planning your timeline (i.e. schedule recordings, set up a photo shoot, etc.). Give yourself concrete goals such as having press photos delivered by March 2015 and so on. Having these individual goals makes the process more manageable (and hopefully a little less stressful).


Navigating the time between touring and putting out a new record is a tricky feat. It'll take time to figure out a rhythm that works for you. Plus, a lot depends on moving pieces, band members, press rollout, etc. But with these four tangible goals, you're definitely starting in the right direction!



Caroline Marchildon handles in-house publicity for Secretly Group (Dead Oceans, Jagjaguwar, Secretly Canadian, Numero Group). A Southern transplant living in the Midwest, she's a certified coffee shop hopper and weekend adventurer. Find her on Twitter or visit her website.