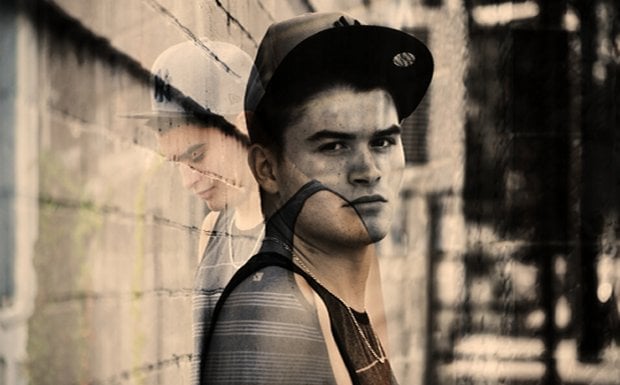 Image courtesy of the artist
A rapper who can rap about as fast as his idol 2Pac, Ryan Bronson is an exceptionally talented up-and-comer in the hip-hop game. From humble beginnings in 2011 to opening for Shwayze today, his ascension has been rapid. Expect big things from Bronson in the future as he starts to create his own beats and further develops his flow.
Bronson took time off his touring hustle to speak with us about his beginnings in hip-hop, what's in store next, and how Sonicbids has accelerated his process of becoming the next big thing in rap.
You're from a tiny town in upstate New York called Waverly. What inspired you to get into rapping?
I got into hip-hop at a very young age, idolized artists like 2Pac, Eminem, and T.I., and always wrote poetry and used it as a vent. I started recording in 2011. At first it was just a hobby, and then a shoulder injury ended my baseball career in college, so I started taking it more seriously and got my first gig. The adrenaline of being onstage was the only thing that matched the adrenaline of pitching, so I knew this is what I was meant to do.
What were the most important steps you took that got you to where you are today, opening for heavy-hitters like Shwayze?
The most important steps to landing opening gigs is putting together a good pitch email, making music that's different, but most importantly of all, persistence. I just keep trying even when I get told no. And then when you start selling tickets and bringing your own fans to shows [where you're the opening act], opportunities arise.
The beats on the tracks from your new album, Reflections, cover a wide spectrum, from super amped up to very laid-back. Do you have one person you go to for beats or multiple people? Do you ever make your own beats?
I go through multiple producers for the beats. I like to show a lot of versatility in my songs and not be classified as a one-trick artist, per se. When I listen to an album, I like to hear a bunch of different songs, not ten songs that sound the same, so I try to incorporate that into my albums. I haven't made any of my own beats, but that's in the works.
How has Sonicbids helped your career?
Sonicbids has helped me obtain some magazine placements and a few gigs, but the most important thing Sonicbids has given me is knowledge. Tips on how to land shows, the importance of press kits, how to book shows, and tips on how to make money doing shows via merchandise and physical CDs. As a DIY artist, Sonicbids opportunities, features, and the blog with tips for touring artists are especially helpful.
Any big plans for 2015?
A lot of big plans are in the works for 2015. We're working on a tour, and I plan on releasing another album, as well as quite a few "free release" songs and some collaborations as well. I also work with a few other artists, one who co-founded Free Lance Music Group with me, so look out for projects from them as well – 2015 should be a big year for us.