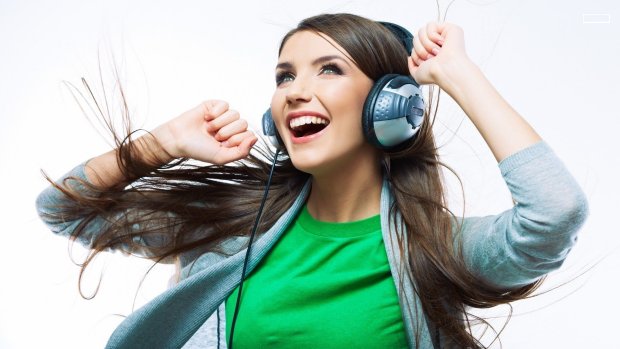 This is the ideal reaction from your listeners, after all. (Image via playbuzz.com)
Streaming companies don't make it easy to love them. Of course the royalty structure is off, and we hope that strides are made to resolve such issues in years to come and get artists paid. But for the time being, developing artists, there might be a different way to look at things that could benefit your burgeoning career.
For struggling artists in the pre-digital music era, it could feel like hell trying to break out of your local scene. After all, friends shared burned CDs with friends and brought their buds to shows, but it was much harder to have an international hit or suddenly break onto the singles charts in Indonesia as a musician in Kansas. Streaming platforms now make it easier than ever for people to check out a new band. Sites like Spotify, Rdio, and SoundCloud are must-haves for music fans in this day and age. Day after day, people swarm these platforms to sift through new tracks.
So while streaming has some serious downsides, this article is a chance for us to take a look at the upsides. Oh, and get your band some new fans, of course! Here are three smart ways to make these platforms work for your band.
1. Build a community and mine for fans
Many of your fans or soon-to-be fans are already hooked on streaming music, so use that to your advantage to make a personal connection right at the listening stage. Encourage comments and reviews on your tracks, thank folks when they add you to their personal playlists, join conversations on your artist and song pages, and invite your social media followers to listen and engage with your streaming platforms as well. All of these opportunities for connection will strengthen your fans' bond with you, increasing the likelihood that they'll buy or recommend your music to other potential fans.
Don't forget to leverage your social media platforms to add to your follow, play, and pay counts. Platforms such as Rdio, Last.fm, and Spotify make it easy for artists and listeners to lay out every social media account you've ever had. Segueing loyal listeners over to your Facebook, Twitter, Instagram, etc. may be time-consuming, but still worthwhile to build on fan connections. What's more, mining new fans and followers from streaming platforms will bulk up your social media profiles. Larger followings don't just look and feel great, they're a measure of your level of influence and can be used in proposals for partnerships, playing festivals, grants, and then some. It all starts with putting yourself out there in a personal way.
2. Turn casual listeners into full-time believers
Breakout singles are powerful for getting ears and eyes on your music for the first time. If you've hooked new fans with a new track, think about how you can get them excited about the rest of your catalog. With streaming platforms, your entire discography can be within listeners' fingertips; use that attention to direct fans of your latest single to your album history as well. Make sure your streaming profiles clearly lay out your music by album and year. Ensuring your artist profiles are updated on all the various platforms will ensure these new fans have the opportunity to become superfans of your entire story, album by album.
Nine Inch Nails did this effectively on their SoundCloud by laying out playlists of not only the singles, but also themed playlists for heavy tracks, quiet tracks, and deep cuts that a casual fan may not have bothered to find. Go ahead and put your underrated work beside your most popular songs, and the streams, repeats, and sales will follow.
3. Learn something about your listeners
As a listener, the power of streaming is the ability to jump from artist to artist at a moment's notice. As a band on a streaming platform, you may be reticent to check out your own album page – but by clicking on your fans' profiles, you'll be able to see for the first time what everyone is listening to in real time. If they listened to your album then jumped over to hear the new Viet Cong record or Andy Shauf, you'll get amazing insight into who might be a good touring partner and which networks are worth connecting with to build your own fanbase.
With streaming and fan interactions noted, you can start catering your marketing, sales, and PR plans around fan profiles. You have the chance to turn fans listening to you obsessively into lifelong champions online. Find out their musical tastes, where they're from, and their ages, and begin the strategy! Now you can geo-target posts on your platforms, creating promoted posts for your new video release and tour to connect with fans in your most-listened-to areas. Is there a huge swath of listeners from Montreal? Now tour plans can start to coalesce, and you know where you should focus your promo attention.
If you can't beat 'em, join 'em, right? You may disagree, but if you use these tips, you'll be in great shape to leverage streaming for your music career and make the most of it!
Learn more about streaming:
Sari Delmar is the CEO and Founder of Audio Blood, a full-service artist and brand development company based in Toronto, Ontario.
Audio Blood is a community of young, culturally engaged, and inspired tastemakers. Audio Blood has earned its name as Canada's go-to hub for groundbreaking events and talent by making genuine and honest connections with every person it works with. It's AB's "so-crazy-it-just-might-work" approach to marketing that has people turning their heads internationally.