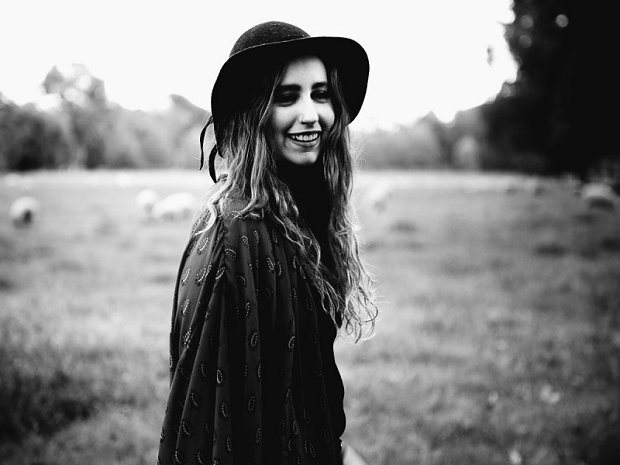 Image via caitlinharnett.com
You wouldn't expect the sounds of Laurel Canyon in the 1970s to come from someone born and raised in Sydney, Australia, but Americana singer-songwriter Caitlin Harnett defies the norm. In the past month, she released her debut album The River Runs North to a flurry of praise for her soulful vibes and rustic folk stylings. A NXNE veteran, Harnett shares her tips for playing the festival and how Sonicbids can accelerate the process of becoming part of it all.
How long have you been playing music? What got you into it?
As long as I can remember. I've always been writing songs. I used to sit in the bath and write them then run out and record them on my tape cassette player and make my sister play tambourine. When I was 11, Ma and Pa bought me a guitar. I taught myself how to play, and it just felt natural to keep writing songs.
Your debut full-length album, The River Runs North, was just released last month. What was the experience of recording in Canada like, and how has the response been so far?
It was an incredible experience that could have potentially been terrible! I had never met any of the people I was working with; I was basically just going off a record that I loved, that Dave [Draves] had produced (Kathleen Edwards' Failer) and a couple of Skype calls! I feel so incredibly lucky to have worked with Dave and Jim Bryson and my amazing band on this record. They're all my family now. The response has been so wonderful – better than I ever could have hoped. I had spent a year impatiently sitting on it and just wanting to release it, but I underestimated how safe that was. Once I released it, it was out there for everyone to criticize. Thankfully, I've only had glowing feedback. I'm wondering if it's a hoax and I'm going to get a terrible review soon!
How has Sonicbids impacted your career?
Wow, I don't even know where to begin! Sonicbids has been one of the best things to happen to me, honestly. Through Sonicbids, I was given the opportunity to apply for and play at festivals I never dreamed of being a part of. Americana Music Festival in Nashville, Northside Festival in Brooklyn, NXNE in Toronto, and I just recently played CMJ Music Marathon in New York. As an independent musician, I feel very lucky to have access to this.
Which features of Sonicbids are the most helpful for you day-to-day?
Whenever I'm feeling uninspired or planning my next adventure, I jump onto Sonicbids and click Find Gigs and start applying. Now, I'm not sure how helpful this is to my bank account, but it's great for my soul. The EPK has been invaluable when I need to send info to other musicians, booking agents, or labels.

What was your experience at NXNE like?
It was great fun! I was lucky enough to get a show at The Dakota Tavern, which is a stunning little room. Turns out, they put me on the same bill as one of my best friends from Ottawa who plays in a band with a bunch of guys who played on my record. Very small world. We had a lot of fun and met a lot of beautiful people. It was my first time in Toronto and definitely not my last. NXNE is an incredible opportunity to meet and connect with like-minded people and get your music out there to a whole new audience. They really tailored the shows perfectly, mixed up the sounds, and combined some great acts together. I only wish I could have gotten to every show.

What's your best piece of advice for this year's NXNE hopefuls?
Don't miss any opportunities to meet people and share your music. Some of the best parts of music festivals for me have been the connections and friendships I have made with other musicians. Oh, and your first course of action is to go straight to Fresh and order the Green Goddess Bowl. Thank me later.
What have the highlights of your career been so far?
This entire past year has been pretty special for me as a whole. Recording and releasing my album, touring Canada, playing shows in New York, and touring around Australia. It's all been a highlight!
What's coming up next for you?
I'm rehearsing with my band for my record launch here in Sydney, Australia, at Easy Tiger on December 3 and supporting New Orleans-based band Hurray For The Riff Raff on November 26 at Newtown Social Club. Busy, busy, busy!