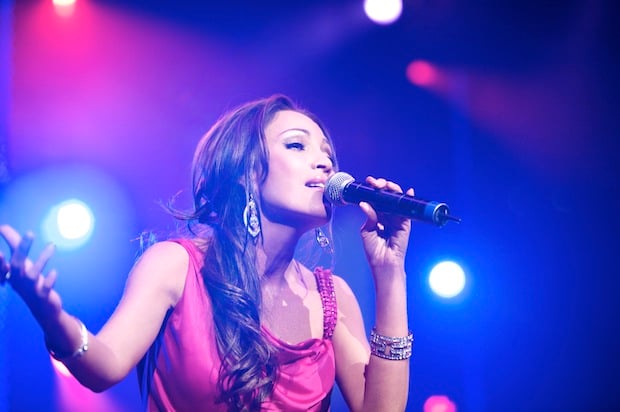 Photo by Mark J Sebastian via Wikimedia Commons / CC BY 2.0
Becoming a professional singer doesn't just happen overnight – it takes time, practice, patience, and a solid education in the discipline. Read on to learn practice tips, ways to push your singing ability further, the pros and cons of going solo vs. joining a band, how to maintain your confidence in this cutthroat and highly competitive industry, and the different ways you can support yourself financially as a professional vocalist.
Practice tips for the beginner singer
Oftentimes, musicians don't realize the importance of "practicing how you perform." The work that goes on behind the scenes is what truly makes or breaks a great singer. As the late, great Muhammad Ali said, "The fight is won or lost far away from witnesses – behind the lines, in the gym, and out there on the road, long before I dance under those lights."
As musicians, we must take our art seriously and train in the same methodical way as professional athletes do, or those in any other serious discipline. Great singers truly are not born; they're made. These are some important tips to keep in mind as you practice to become a better singer:
Should you go solo or join a band?
This is a question you really need to spend some time thinking about when embarking on your career as a vocalist. It's much like making the childhood choice to play a team sport like soccer or choosing to do something more individual like gymnastics. Part of figuring out the right answer is being true to yourself and figuring out what will ultimately make you happier, and the other part is being honest about what stage you're at in your musical life.
It's certainly possible to do both, or grow from one into the other. I think we most often see frontmen for bands opt to go solo after a few records, and that's why the solo route seems more glamorous, but it's definitely not always better. There are a lot of positive things that come out of joining a band, and lots of ways you can find other musicians to experiment with.
The other question is: do you join a band or start one of your own? If you don't play an instrument well enough to accompany yourself comfortably for a few hours, you're definitely going to need some help, so going the band route is probably the best option in this case. However, if you can hang with the "one-man band" thing, then going the singer/songwriter route could also be very rewarding, and the sky is truly the limit.
I believe all singers should learn the most they can about all of the professional avenues you can explore as a vocalist, and choose the one that feels right for you.
Keeping your head up in the music business
The music industry is a tough business – that's no secret. There's always someone more talented, better looking, and better connected than you right around the corner, and that's just reality. What sets you apart from everyone else is how hard you work and how you allow that passion to manifest.
If you really have your heart set on being a singer, you better develop a thick skin, and fast! Start with accepting the fact that not everyone will like your singing or "get" your music. Rejection is inevitable, but it's how you deal with it that helps you grow and improve.
Perseverance is key. And always remember that no matter how bad it seems, it's not the end of the world or the end of your career. As they say, when one door closes, another opens. Stay focused on your goals, don't get distracted, work hard, and welcome the sound advice of others whose careers you admire.
Learn more:
How to make money as a singer
So can fresh singers actually make any money at this? Well, that all depends on what you choose to do with your new-found talent! Typically, singers start off making small amounts of cash in exchange for quality experience that's used to leverage for better future opportunities, and you can certainly make that transition to earning a decent living from singing professionally once you're ready.
But while you're still in the growing stages, you can (and should) do what many musicians do: acquire some convenient side work to help keep you afloat between gigs. Then once you've got some income coming in, know what to do with it! Play your cards carefully, plan your financials wisely, and you'll be on the road to a future filled with happiness and success doing what you love.
Learn more:
Christine Occhino is the founder and artistic director of The Pop Music Academy and has experience working at Columbia Records/Sony Music Entertainment, in addition to working as a performing artist for over a decade. She has a bachelor's degree in music business & management with a concentration in entrepreneurship and vocal performance from Berklee College of Music, where she was a vocal scholarship recipient and former editor-in-chief of The Berklee Groove. She is also the proud founder and CEO of Hope In Harmony, a 501(c)(3) nonprofit organization that brings music to those in need.