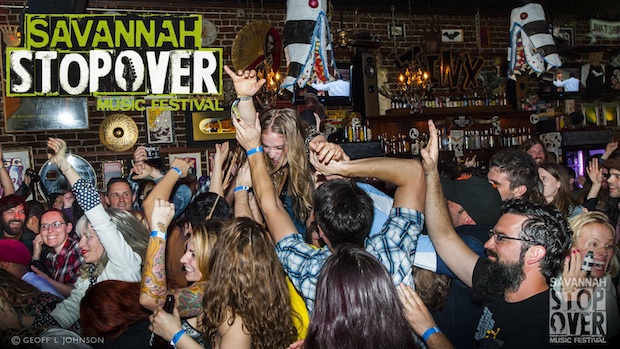 Savannah Stopover 2014 (Photo by Geoff L. Johnson)
For the past five years, the small coastal city of Savannah, GA, has drawn thousands of residents and visitors to the Savannah Stopover music festival. Taking place over three days, the festival features over 70 national touring acts along with local rising artists. Savannah Stopover is in search of four Sonicbids artists to join their 2015 lineup. Along with compensation, artists are greeted with true southern hospitality as the festival strives to provide an experience like no other. Peter Robaudo, Savannah Stopover's director of talent and systems management, explained why the importance of hospitality to artists is such a focus of the festival, what he's looking for in bands, and why Savannah's rising music scene is the place to be.
There have been some big name acts who've played Savannah Stopover, such as of Montreal, Mac DeMarco, and Grimes. The festival also places a huge emphasis on rising talent. How do you create a balance between well-known acts and emerging artists?
This is definitely one of our more tricky tasks to handle. As we grow, we want to maintain and stay true to our original vision of giving
up-and-coming talent
a platform to showcase what they're all about, but at the same time, we want to be able to
bring in an audience
with those few more recognizable names. Fortunately for us, we have a knack for choosing rising talent. For example Grimes, Mac DeMarco, and Future Islands all played our
festival
when they were just on the cusp of breaking through. At the time, they might not have had the recognition they do now, but
that's what we're all about: discovering your new favorite band, and seeing them in an intimate venue before they're playing arena-style concerts and festivals
. We want you to be able to say, "Oh, I remember when I saw [insert band name] at Stopover in a 175-cap room when they weren't big yet."
For a three-day festival, the ticket price is pretty amazing. How do you manage to keep it at such a reasonable price?
We realize that at these bigger festivals, you're shelling out $200+ for only general admission, and we think that's just way too expensive, especially if you look at the target market and their respective disposable income.
We've been $75 general admission since the beginning, and we don't want to skew away from that as the years come.
Since we don't book what's known as "mainstream" artists, we're able to keep our
talent budget
much smaller than other festivals, along with an amazing core volunteer group that helps us out leading into the festival and during. I need to give a shout-out to our volunteers, because quite frankly, if it weren't for them, we wouldn't be where we are now. Our volunteer program allows you to attend the festival as long as you work your required shifts, and in addition, are invited to all the VIP and cool private events we hold during the weekend (and a few post/prior).
Southern hospitality is a well-known custom, which applies to your approach with the bands that play at the festival. What are the ideals Savannah Stopover lives by?
Savannah is known as the "Hostess City," so you can say it's in our blood. We kept on hearing stories about bands having to play six shows in four days, lugging their gear from
venue to venue
, sleeping in
their van
, and just being treated like another number on the board. We took this to heart and now try to be the complete opposite. We provide band dinners every night, tasty homemade southern cuisine, along with our sponsored beverages. We've also developed a band housing program, Adopt-a-Band, where we match bands with a local resident who graciously
opens their home for the night
(and some incredible stories and relationships are formed out of it). In addition to all of this, we give them a "roadie bag" with all kinds of goodies from socks to condoms
–
you know, the band essentials.
We basically try to treat every band coming through like the rock stars they all are.
What are your favorite things about the music scene in Savannah?
Watching it grow! I've only lived here since 2010, and I can already see some change. Local musicians are very supportive of other locals, and you're starting to see a lot of
collaboration
between bands and side projects forming, which is a great indication of development. The venues in town support us as
promoters
, and we try to always involve them not only in our festival, but also the other concerts we do year-round.
I love how it's almost a big family: the musicians, the venue owners and workers, the promoters.
We're all in it together.
Since the festival is located so close to I-95 and I-10, it's a perfect stop for those on tour. Would you say the festival showcases more local talent or a mixture of the acts stopping through the city?
We've always been baffled at
touring acts
skipping Savannah. Their routing will take them to Charleston or Athens and then to Jacksonville, but not stop in Savannah. We're trying to change this. We always set aside slots for our
local talent
and support them by giving some the opportunity to
open for our bigger touring acts
.
We focus a little more on touring bands for this festival to try and sell them on the city so they'll want to come back on their future tours.
Local acts usually make up 15 to 20 percent of our lineup, which we think is a fair amount considering we've had over 100 bands in three days.
What are the top things you look for when evaluating submissions for the festival?
There are a few checkboxes we try and fill when looking at submitted bands:
Do they have any new material leading up to the festival, or recently released material?
Have they ever played the market (Savannah) before?
Do they have a marketing plan/timeline push?
Is there any buzz surrounding them (from music blogs, social media, internally in the music industry, etc.)?
Are they routing through or is it just a one-off?
Are there any specific qualifications a group must meet in order to play?
We don't have requirements, per se, or any genre restrictions, but
if you don't have any online presence, and we can't find your music anywhere, then that raises a red flag
. Also, most of our venues are 21+, so we prefer if all
band members
are of age – but that's not to say we don't
book bands
that are younger, because we have a few
venues
that are all ages.
What would you say is the biggest reason Sonicbids artists should audition for the festival?
This is a total sell plug, which I dislike doing, but here it goes: Stopover is the perfect place for up-and-coming artists to showcase themselves to a music-hungry crowd while being treated like royalty! I think that sums it up quite well.